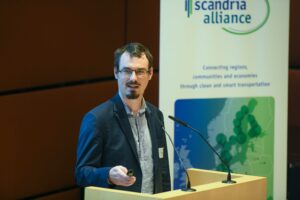 During his keynote, Tomás Petras, Team leader Northern and Eastern Europe, DB Fernverkehr AG, provided an outlook into the nearer and farther future of rail transport in the Scandria®Corridor. He highlighted the challenges of running cross-border passenger rail services but also the opportunities that come along major European rail infrastructure projects in the Scandria®Corridor, the Fehmarn Belt fixed link and the Brenner Base Tunnel. Both will significantly reduce travel times, making rail services more competitive.
Even before this new infrastructure will become operational, DB Fernverkehr AG is planning to introduce new and better cross-border rail offers together with its partners. Talks are ongoing with SJ and also with Trenitalia. It was planned to inaugurate new services between Munich and Milan in 2021. Unfortunately, this had to be postponed due to missing homologation of ETCS in Austria, which will not be available before 2023.
Besides infrastructure bottlenecks, national safety systems are a major challenge for cross-border rail services. Mr Petras stressed illustrated that it would need as many as three locomotives to run a train between Sweden, Germany, the Netherlands and Czech Republic or between Germany, Austria and Italy as it is foreseen.
Another obstacle are capacity bottlenecks around Hamburg, the Öresund, Berlin, Nuremberg and Munich, which would require further investments into improved or new infrastructure.
After 2030, he concluded, competetive train services could connect all major cities in the Scandria®Corridor at every two to four hours at competetive travel times.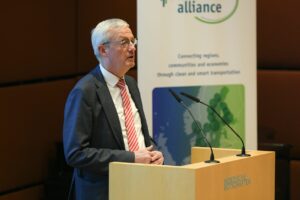 Guido Beermann, Minister of Infrastructure and Federal State Planning of Land Brandenburg and Chairperson of the Scandria®Alliance General Assembly, presented the Vision for rail transport in the Northern Scandria®Corridor.
He stressed, that without well functioning rail services, we would be hardly able to achieve the Paris Climate goals. The rail vision underlines the importance of cross-border rail transport to the member regions and calls on all actors to:
offer attractive, frequent and high-quality services to cross-border travellers at the long distance as well as at the short distance,
provide frequent, attractive and convenient night train connections between urban nodes in the Scandria®Corridor,
provide sufficient capacities for rail freight services, making them a viable alternative to road-based freight transport in terms of reliability and economic feasibility,
be integrated in terms of timetable and ticketing systems,
be well connected to other modes of transport.
He mentioned that there were good developments just recently, like the inauguration of a new night train between Berlin and Stockholm, or the current discussions about clockwise timetables across Europe. However, sufficient ressources need to be secured to upgrade infrastructure capacity.